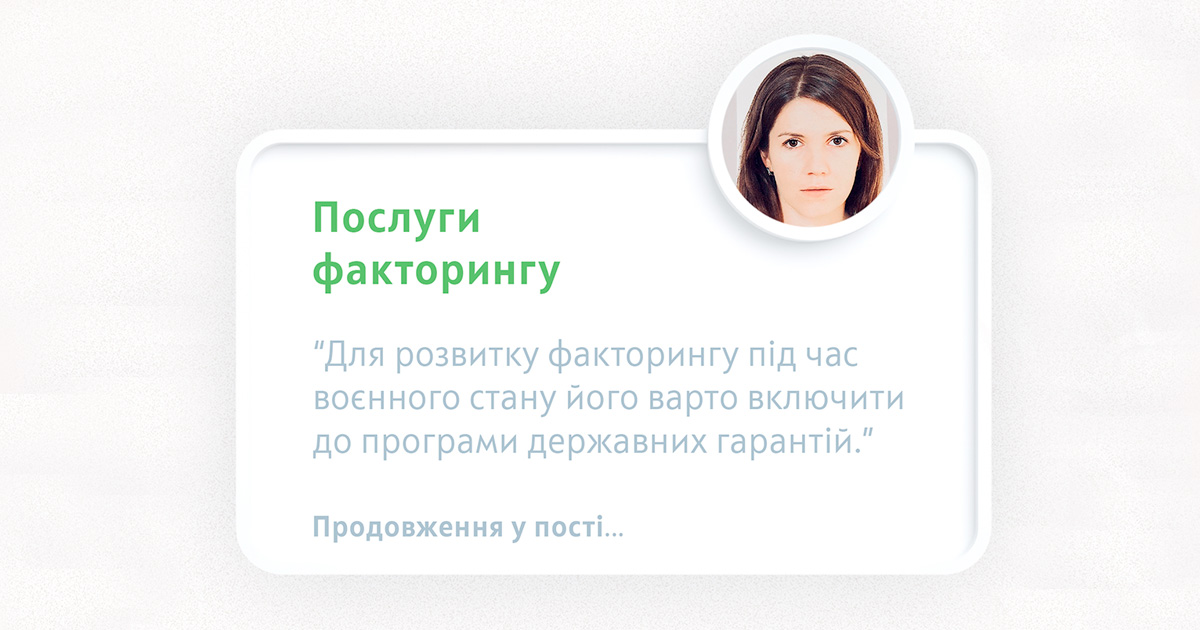 "Factoring to Include in State Guarantees' Program for its Growth during Martial Law" - OTP Bank
11.05.2022
"Factoring operations should be included in the state guarantees program to enable its growth in the war context. This opinion was expressed by Lina Zaika, Head of the Factoring Financing Unit at OTP Bank, during a round table on the topic "Factoring: how to renew working capital without attracting loans", held by the Financial Club last week.
According to her, the factoring application in the war environment is constrained due to the suppliers` rejection to accept deferred payment or post-payment, primarily due to the risk of partial or complete non-payment for goods. "Even a strong trading network, with numerous points of sale, profitable, with sufficient liquidity, can get into a difficult situation or face huge losses due to military operations. Suppliers prefer prepaid deliveries today to minimize their financial losses, which makes factoring usage impossible," the Head of the Factoring Financing Unit at OTP Bank highlighted.
Meanwhile, she considers factoring operations nowadays to be an efficient way of working capital replenishment without collateral for critical infrastructure enterprises, first, in food, medicine, mobile communications, and other consumer goods sectors. Besides, the companies involved in sowing, eg. traders of mineral fertilizers, planting materials, and spare parts, could use it effectively.
According to L.Zaika, OTP Bank`s clients do not need to visit its branches to apply and draw up documents for obtaining factoring financing since necessary documents can be provided via electronic channels, including client-bank.
Share these news with friends!
Public Joint Stock Company OTP Bank is a subsidiary of OTP Bank, which is the largest independent Central-Eastern-European banking group. JSC OTP Bank is one of the largest domestic banks, a recognized leader in the financial sector of Ukraine. The Bank provides a full range of financial services to corporate and private customers, as well as to small and medium enterprises. The bank entered the Ukrainian market in 1998, and since then it enjoys a staunch reputation of socially responsible, reliable and stable institution providing its consumers with services of European quality standard.
Additional information
Subscribe
be the first to know about stocks