Deposit Guarantee Fund of Individuals of Ukraine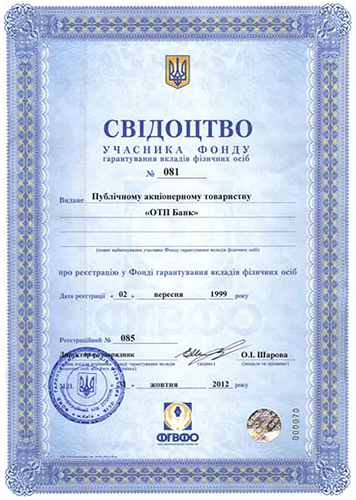 Additional documents and materials
* Used an unofficial translation of the page
Video material with financial education
Frequently Asked Questions
What is amount ofguaranteed refund by the Fund?
According to the decision of the Administrative Council of the Deposit Guarantee Fund of individuals №27 dated 21.08.2012 "On increasing theamount of deposit refunds", which was registered in the Ministry of Justice of Ukraine on 29.08.2012 for №1452 / 21764.
The amount of deposit refunds, including interest, at the expense of the Deposit Guarantee Fund of Individuals is up to UAH 200,000.
Which deposits are covered by the Fund's guarantees?
To each depositor, the Fund guarantees refundsraised by the bank from the depositor (or received for the depositor) on the following terms:

bank deposit agreement
bank account
by issuing a registered certificate of deposit