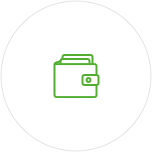 Ability to receive your money at any time
+ 0,5% if you opening a term deposit through Internet-banking OTP Smart
Guaranteed income
OTP Bank offers the effecting of deposit operations in UAH, USD and EUR for private clients
Term deposit

Deposit term is from 30 days to 2 years
Account replenishment or partial use of capital is not provided
If you opening via OTP Smart Internet banking, the rate is up to 6,5%
Deposits can be placed in UAH, USD, EUR and CHF
Minimal sum to deposit: 2000 UAH or 50 USD or 50 Euro or 50 CHF
Savings account

Iterest Rate: 5,5%
Account operation is not limited
Deposits can be placed in UAH
Minimum replenishment amount: 100 UAH
Minimum sum to deposit: 500 UAH
Child deposit till lawful age

Each parent/tutor has right to open an account
The deposit interest rate is floating (0,25USD/0,01EUR), interests are paid annually
In case of pre-term agreement dissolution after 2 years of the Agreement's validity interests will be paid fully on actual term of deposit placement, during 2 years – at the level of 0,01% per annum for USD and EUR
Minimum sum to deposit: 20 US Dollars or 20 Euro
Minimum replenishment amount: 20 US Dollars or 20 Euro
Comparison table of interest rates on deposit products
Type of deposit
Terms, days
Interest Rate
Minimal sum to deposit
Term deposit with interests payment after agreement termination
90-179
180-269
270-365
367-730

6%

*


6.25%

*


6.25%

*


6.5%

*



2000 UAH
Term deposit with monthly payment or interest capitalization
90-179
180-269
270-365
367-730

5.5%

*


5.75%

*


5.75%

*


6%

*



2000 UAH
Savings account with free withdrawal and replenishment option "Convenient money+"
perpetual
5,5%

300 UAH
Deposit with free withdrawal and replanishment option "Accessible money"
perpetual
5,5%

100 UAH
Child deposit till lawful age
till lawful age
–
–
Type of deposit
Terms, days
Interest Rate
Minimal sum to deposit
Agreement on the term bank deposit with interests payment after agreement termination
90-179
180-269
270-365
367-730

0.01%
0.01%
0.01%
0.01%

50 USD
Term deposit with monthly payment or interest capitalization
90-179
180-269
270-365
367-730

0.01%
0.01%
0.01%
0.01%

50 USD
Savings account with free withdrawal and replenishment option "Convenient money+"
perpetual
0.01%

10 USD
Deposit with free withdrawal and replanishment option "Accessible money"
perpetual
–
–
Child deposit till lawful age
till lawful age
0.01%

20 USD
Type of deposit
Terms, days
Interest Rate
Minimal sum to deposit
Agreement on the term bank deposit with interests payment after agreement termination
90-179
180-269
270-365
367-730

0.01%
0.01%
0.01%
0.01%

50 EUR
Term deposit with monthly payment or interest capitalization
90-179
180-269
270-365
367-730

0.01%
0.01%
0.01%
0.01%

50 EUR
Savings account with free withdrawal and replenishment option "Convenient money+"
perpetual
0.01%

10 EUR
Deposit with free withdrawal and replanishment option "Accessible money"
perpetual
–
–
Child deposit till lawful age
till lawful age
0.01%

20 EUR
Type of deposit
Terms, days
Interest Rate
Minimal sum to deposit
Agreement on the term bank deposit with interests payment after agreement termination
90-179
180-269
270-365
367-730

0.01%
0.01%
0.01%
0.01%

50 CHF
Term deposit with monthly payment or interest capitalization
90-179
180-269
270-365
367-730

–
–
–
–

–
Savings account with free withdrawal and replenishment option "Convenient money+"
perpetual
–
–
Deposit with free withdrawal and replanishment option "Accessible money"
perpetual
–
–
Child deposit till lawful age
till lawful age
–
–
* Interest rates include OTP Smart deposit bonus.
Interest rate on early repayment of the deposit -1.5% per annum in UAH, 0.01% per annum in USD, EURO and CHF. Minimum period of term deposit for non-resident of Ukraine – 184 days.
Calculate your profit from a deposit in OTP Bank:
Deposit calculation
Amount to issue (deposit + % - taxes)
Interest rate
Final income
XIRR
*An example of calculating deposit conditions is purely informational and is not a public offer.
Apply for a deposit now

Guaranteed deposit safety

Ability to receive your money at any time

Guaranteed income
Documents
List of documents required for making of deposit operations
Passport
Borrower's identification code giving report issued by tax administration
Individuals – non-residents need to submit document stating the course of cash