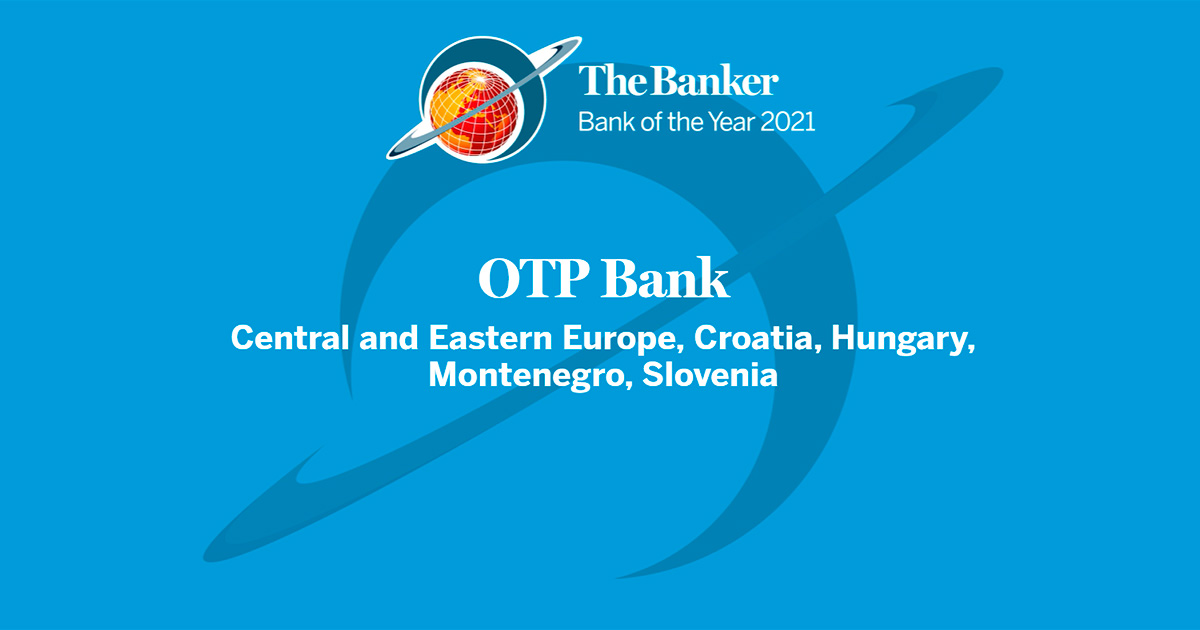 OTP Group wins The Banker's Bank of the Year award in CEE
11.01.2022
OTP Group has won The Banker's 2021 Bank of the Year award in the CEE as a whole, as well as Croatia, Hungary, Montenegro and Slovenia, adding to a series of accolades in recent years that recognize our ambitious expansion strategy, digital transformation and customer-centric approach.
Earlier this year OTP Group was named best bank in Central and Eastern Europe in the Euromoney Awards for Excellence 2021. While often winning single country awards in the region, these regional awards are a recognition of the work in turning OTP Group into a decisive regional player.
"We strongly believe that the CEE region's convergence story is set to continue, and we are fully committed to maintain our contribution to this development," said László Wolf, Deputy Chief Executive of OTP Group. "Having our headquarters and entire operation in CEE, we have accumulated vast experience and in-depth knowledge of our markets. An optimal blend of local and central solutions, as well as a tailor-made mix of digital and brick-and-mortar banking services, are certainly unique and hard-to-replicate competitive advantages of OTP Group."
To read the full editorial from The Banker please follow this link.
The Banker noted that "As the global political climate shifts in the wake of the Covid-19 pandemic, CEE is likely to benefit from new megatrends including the reshoring of manufacturing and supply chains. The winner of the CEE regional Bank of the Year award 2021, OTP Group, is uniquely positioned to reap the benefits of these changes and help drive the next stage of the region's development. Bold expansion across the region in recent years has contributed to a footprint across 11 markets."
Public Joint Stock Company OTP Bank is a subsidiary of OTP Bank, which is the largest independent Central-Eastern-European banking group. JSC OTP Bank is one of the largest domestic banks, a recognized leader in the financial sector of Ukraine. The Bank provides a full range of financial services to corporate and private customers, as well as to small and medium enterprises. The bank entered the Ukrainian market in 1998, and since then it enjoys a staunch reputation of socially responsible, reliable and stable institution providing its consumers with services of European quality standard.
Additional information
Subscribe
be the first to know about stocks